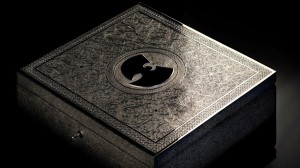 A Wu-Tang affiliate' Andre Johnson aka Christ Bearer was in the news yesterday for allegedly whacking off his penis and then attempting to jump to his death. According to news reports he was only successful at one of the two feats.   
I wake up this morning turn on Bloomberg Pulse… and lo and behold who do I see sitting in the studio at the Pulse anchor desk? None other than Cilvaringz (Tarik Azzougarh) identified as Wu-Tang's business manager and producer of the Clan's latest project the Secret Album currently at auction. 
Opening bid is reported to be $5 million. The group is only selling one album. The winning bidder can do what they choose with the recording said to have 31 tracks made over the last several years.
Cilvaringz says it's the groups attempt to elevate music to a thing of art –not the latest fad.
Yes, the group is auctioning off their music but Wu-Tang retains the rights to tour with this album.
Aside: Jay Z, Beyoncé and now Wu-Tang are all holding class in "Intellectual Property" who's paying attention? Hmm
It is amazing how so many folks thumb their nose at emcees and rap music -while these cats and chicks have actually become a part of the establishment hanging with U.S. Presidents and world leaders; owning islands, sitting at the Bloomberg anchor desk holding court.
These entrepreneurs and business magnates all under 50 are doing it up; while many of us Generation X-ers and Boomers are still punching a clock; in debt, hoping our 401k will accumulate enough money before we retire; that is if we're not wondering if we will even have a job next quarter as layoffs loom across the country… smh
Ok, I concede "Christ Bearer" makes it clear you have to sacrifice a lot in the game if you are going to take the 1099/1120 route. On the flip side, however, is this: YOU OWN YOURSELF.
After all isn't Independence the "AMERICAN" Way…
Update 12/17/15 NBC News is reporting U.S. Department of Justice 's FBI' have arrested Pharmaceutical Exec Martin Shkreli on Securities Fraud. The charges allegedly stem from his work as CEO and hedge fund manager at Retrophin, a biotech firm he founded.

Update 12/12/15 : Newsweek is reporting Pharmaceutical Executive Martin Shkreli purchased Wu-Tang Clan's album "Once Upon a Time in Shaolin" for $2 Million. If the name sounds familiar Shkreli is the man who upped the price from 13. 50 to $ 750 for a drug that is reported to help AIDS patients. It is reported Wu-Tang Clan gave a portion of proceeds to charity. Oh ! Emcee "Christ Bearer" survived and is saying he's proud of his accomplishment.