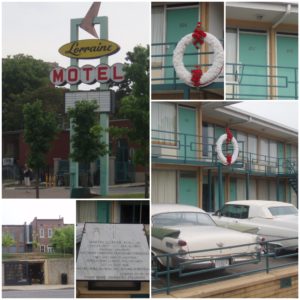 "We shall see what becomes of his dreams."
Where in the world do we shoot people to death because they dream of a better world?
In Memphis, Tennessee there's evidence of such an act preserved at the National Civil Rights Museum.
Civil Rights Activist and Leader Reverend Dr. Martin Luther King, Jr was shot dead at the Lorraine Motel outside of Room 306. Across Mulberry Street, 283 feet away the "sniper's nest was reported to be on the second floor bathroom window at "Bessie Brewer's rooming house on S. Main street.
The funeral wreath of red and white carnations serves as a marker of where Dr. King's face and neck caught the sniper's bullet.
On the eve of the 50th anniversary of the assassination of Dr. Martin Luther King Jr., a woman who was present for Dr. King's final moments is sharing her story for the very first time. TODAY's Craig Melvin speaks with her exclusively at the Civil Rights Museum in Memphis, which stands on the site of the assassination.
Witness No. 43 Mary Ellen Ford nee' Norwood said in an interview with NBC's Craig Melvin
Engraving below Room 306
Martin Luther King, Jr
January 15, 1929 – April 4, 1968
Founding President Southern Christian Leadership Conference
"They said one to another behold, here cometh the dreamer.
Let us slay him and we shall see what will become of his dreams." Genesis 37:19-20
Ralph David Abernathy, President
Credit: The LeadStory.org Photos taken with OLYMPUS DIGITAL CAMERA

National Civil Rights Museum The Lorraine Motel Room 307-308

National Civil Rights Museum: Spot where bullet felled Dr. Martin Luther King, Jr.

National Civil Rights Museum : The Lorraine Motel

National Civil Rights Museum : The Legacy Building

National Civil Rights Museum The Lorraine Motel